Nearly a year after it first launched, Pokémon Go is getting a big summer update aimed at making the game both more accessible and more social. While it may not be as popular as the heady days when it first debuted, developer Niantic says that Pokémon Go has been downloaded more than 750 million times to date, and it currently boasts 65 million monthly players. To keep that fanbase engaged, the studio is adding two major new features to the game, which you'll be able to experience shortly through a pair of free updates. The updates join a slew of changes for the game over the past year, which include everything from the addition of new creatures to the limited time in-game events.
Here's what to expect this summer:
MULTIPLAYER RAID BATTLES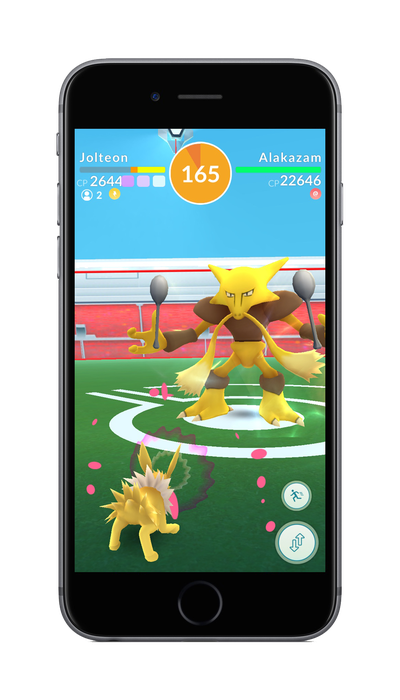 You know that scene in the original Pokémon Go trailer where trainers team up to fight a huge, powerful pokémon in Times Square? "Raid battles" are Niantic's attempt to bring that concept into the game. Essentially, the battles allow up to 20 players to work together to fight rare bosses, which will randomly appear at gyms. You'll know a boss is coming because a pokémon egg will appear at a gym, complete with a timer to let you know when it will hatch. Once that happens, a powerful pocket monster will show up, and the group will have just five minutes to defeat it.
If you succeed, you'll then have a chance to capture the rare pokémon — though, naturally, it'll be a bit tougher to snag than most monsters. There are also a handful of new items that can only be earned through raids, including rare candies (which turn into a pokémon's candy when used on them), golden razz berries (which offer a greater chance of capturing wild pokémon), and two types of technical machines that let you permanently teach a monster either a fast or charged attack.
The idea behind raids is to get players back outside and working together. Because the battles are centered around gyms, you'll need to be in the same areas as your teammates in order to take on a raid. And while the default raids are public, you can also create private battles limited to just you and friends. Niantic says one of the goals of raids is to allow all players — not just those who play every day and have a roster of strong pokémon — to be able to access higher-level content. It's also a chance to capture strong monsters. Accessing raids will require a new item called a "raid pass." Players will get one free pass per day, and can purchase additional ones as well.
The raid battles are expected to launch as a free update "in the weeks ahead."
Also coming soon are some fairly big changes to how gyms work. For one thing, gyms will now essentially double as pokéstops. You'll have the option to spin a disc at a gym and earn items like berries, pokéballs, and more. (Niantic says one of the motivations behind this change was to increase the number of pokéstops available in rural and suburban areas.)
The structure of gyms is also changing. Now they'll feature six permanent slots for pokémon, and instead of being ordered based on strength, you'll be able to battle them in the order in which they were assigned to the gym. (Each of the six slots will also be occupied by a different type of pokémon, so you won't find yourself fighting through six straight Dragonites.) The update will also introduce a new feature called motivation. Pokémon who are part of a gym will lose motivation over time, which in turn will lower their CP, making them easier to defeat. In order to keep the motivation up, players from the same team can visit a gym and feed the pokémon berries to increase the stat.
Niantic says the new gyms will be available to all players "soon." But until that happens, the company is temporarily disabling gyms in the game. "Once the update has been rolled out to players around the world, gyms will return," the developer says.
Other Helpful guides.
Follow Us on Twitter and on Facebook.