Jurassic World Alive is a popular mobile game that allows players to collect and battle a variety of creatures inspired by the Jurassic Park franchise. These creatures, known as "dinosaurs," are divided into different tiers based on their strength and effectiveness in battle.
Dinosaurs in Jurassic World Alive are officially divided into five tiers and with changing tiers spawn rate and strength of the dinosaurs change. This JWA tier list has been updated and contains new dinos released in update 2.21.
Table of Contents
Jurassic World Alive Tier List 2.21 has been updated till March 2023. JWA Tier List has divided the dinos into multiple tiers, based on their usefulness in battles.
In this article, we will be discussing a tier list for Jurassic World Alive. Please note that this list is subjective and based on personal experience, and may not necessarily reflect the opinions of all players.
The latest Changes to the Creature can be found here.
JWA Tier List
High Tyrant
Mid Tyrant
Low Tyrant

Erlikospyx

Gorgotrebax

Giganyx

Indotaurus

Mammolania

Mortem Rex

Scorpios Rex gen 3

Skoonasaurus

Thylaconyx

Troodoboa

Testacornibus
High Elite

Albertospinos

Alloraptor

Ankylodactylus

Ankylomoloch

Antarctovenator

Ardentismaxima

Ceramagnus

Coelhaast

Dracoceratosaurus

Dsungaia

Diorajasaur

Enteloceros

Pyrosuchus

Panthera Blytheae

Fukuimimus

Geminititan

Grypolyth

Haast Maximus

Hadros Lux

Microraptor

Monolorhino

Phorurex

Poukandactylus

Quetzorion

Segnoraptor

Spinoceratops

Smilonemys

Spinoconstrictor

Stygidaryx

Tarbognathus

Tenontorex

Utarinex
Mid Elite

Acrocanthops

Ailurarctos

Allosinosaurus

Ankylodicurus

Argenteryx

Pulmonoscorpios

Carnotarkus

Compsognathus

Beta

Compsocaulus

Diplodocus

Dimodactylus

Dodocevia

Dracoceratops

Diplovenator

Eremoceros

Grylenken

Indominus Rex

Indoraptor Gen 2

Magnapyritor

Majundaboa

Mammotherium

Megalotops

Megistocurus

Monostegotops

Phorusaura

Pterovexus

Rinchicyon

Red

Sarcorixis

Scorpios Rex

Scutophicyon
Sinokotaraptor

Thoradolosaur

Thylacotator

Titanoboa

Tryostronix

Woolly Rhinoceros
Low Elite

Alankylosaurus

Albertosaurus

Tsintamoth

Ankyntrosaurus
Ardontosaurus

Antarctopelta

Anurognathus

Brontolasmus

Carbotoceratops

Compsognathus Gen 2

Edaphocevia

Entelochops

Erlikogamma

Glyptoceras

Ghost

Indominus Rex 2

Keratoporcus

Monolometrodon

Monomimus

Moros Intrepidus

Nodopatotitan

Ovilophomoloch

Pteraquetzal

Purrolyth

Giganotosaurus

Gigaspikasaur

Scutosaurus

Smilocephalosaurus

Spinonyx

Stegodeus

Suchotator

Tuoramoloch

Tyrannolophosaur

Tiger

Velosrhacos
High Alpha

Acrocanthosaurus

Allosaurus Gen 2

Andrewtherium

Andrewtodon

Arctalces

Brachiosaurus

Concavenator

Dilophoboa

Dracorex

Nasutoceratops

Ornithomimus

Ovilophosaurus

Poukaidei

Preondactylus

Pyroraptor GEN 2

Rajakylosaurus

Scorpios Rex Gen 2

Spinotasuchus

Utasinoraptor
Mid Alpha

Alanqa

Andrewsarchus

Archaeopteryx

Baryonyx

Dakotaraptor

Dimetrodon

Doedicurus
Edaphosaurus

Einiasuchus

Elasmotherium

Giraffatitan

Kelenken

Marsupial Lion

Megalogaia

Megalonyx

Oviraptor GEN 2

Parasaurolophus Lux

Postimetrodon

Purutaurus

Pyroraptor

Rodrigues Solitaire

Secodontosaurus

Spinosaurus

Spinosaurus Gen 2

Stegoceratops

Titanoboa Gen 2

Tyrannosaurus Rex
Low Alpha

Ankylocodon

Arctodus

Argentavis

Blue

Carbonemys

Cervalces

Dakotanops

Diloranosaurus

Dilophosaurus
Dodo

Fukuisaurus

Gorgosaurus

Gorgosuchus

Koolabourgiana

Monolophosaurus

Paramoloch

Pachycephalosaurus

Procerathomimus

Quetzalcoatlus GEN 2

Sinoceratops

Smilodon

Stygimoloch

Stegoceras

Tragodistis

Troodon
Beta

Amargocephalus

Arambourgiania

Arctops

Carnotaurus

Darwezopteryx

Diplotator

Entelomoth

Erlikosaurus

Erlikosaurus Gen 2

Gryposuchus

Megalosuchus

Megistotherium

Nodopatosaurus

Pyrritator

Rajasaurus

Rinchenia

Sonorasaurus
Staters

Bajatonodon

Brontotherium

Bumpy

Charlie

Coelurosauravus

Deinotherium

Delta

Dsungaripterus

Eremotherium

Glyptodon

Gorgonops

Haast Eagle

Kentrosaurus

Maiasaura

Majundasuchus

Megalosaurus

Meiolania

Moschops

Nodosaurus

Oviraptor

Purussaurus

Quetzalcoatlus

Scaphognathus

Scaphotator

Struthiomimus

Triceratops

Triceratops Gen 2

Tuojiangosaurus

T-Rex Gen 2

Velociraptor

Wuerhosaurus

Skoolasaurus

Edmontoguanodon

Woolly Mammoth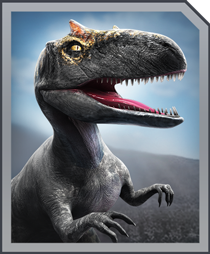 Allosaurus

Amargasaurus

Amphicyon

Ankylosaurus

Aquilamimus

Baryonyx Gen 2

Darwinopterus

Deinocheirus

Dilophosaurus Gen 2

Dracorex Gen 2
Join Discord channel and Reddit.
Tier List Explanation
Tyrant
Albertocevia is the best creature released till now in JWA. Albertocevia has speed, bulk, high attack, a Precise Group Attack on a swap that also heals, Instant Ferocious Impact, Precise Rampage that can also be a Group Precise Rampage on revenge with just 1 turn cooldown, Revenge Distraction move that can act as a Rampage while reducing Damage 100% for two turns and finally resistance to most things.
Ankylos Lux just missed High Tyrant. While it is easily the king of Mid Tyrant, it still runs into issues with these new Fierce. Thylaconyx for example kind of wrecks it hard. Mortem Rex can also give it a lot of trouble. However, the biggest issue comes with Imperatosuchus. Imperatosuchus can easily swap in on Ankylos Lux and exploit that lack of a Stun Resistance. We felt you shouldn't be able to swap on a high tyrant and shut it down every time, so we dropped Ankylos Lux.
Hydra Boa is a creature that is beginning to make an appearance in the meta. With possibly the best on-escape move in the game and a ferocity counter, this is something you do not want to swap on. And with not one, but two instant attacks, it is hard to get the jump on this snake. It does run into some issues like a poor turn 1, but no creature wants to run into a swapper on this.
Phorurex. The best revenge killer in the game. It has high base damage combined with priority rampage and prevents swapping. Phorurex can easily achieve 6000 damage (boosted) with priority and distraction. It also has lethal rampage and runs, which can shatter shields, bypass armor, and inflict bleeding.
Skoonasaurus has just pure brute force. Just add 20 attack boosts to it and to others. Skoonasaurus has decelerating rampage, a distracting impact, a resilient strike, invincibility, and a full decelerating counter. It can dash out major damage while taking multiple hits.
Antarctovenator has more options than most creatures in the game. It can deal with bulky tanks like Mammolania or Testacornibus with ferocity and definite rampage, it can play defense with cunning strike combined with the null counter, it can be a setup creature with vulnerability impact, it can be used as a swapper, or as a revenge killer with revenge definite rampage. And combined with its immunities and resistance, it is worthy of a tyrant.
Gorgotrebax is one of the best apexes around. It has good stats, great defensive bulk with the moveset, good multipliers, and great revenge capabilities. It's got a good get-off-me with instant group distraction.
Indotaurus is just a solid creature. With good stats, a scary moveset, and great options, it easily earns the title of a tyrant. There aren't many things keeping it back other than a lack of stun immunity for example.
Monolorhino has been the only creature since 2.0 to remain in Tyrant, and while it has had some rough patches, it still is a creature worthy of any team. It has probably the best swap-in move in the game, great resistance, good bulk, decent offense, and good synergy.
Parasauthops is the newest swapper in town and if there's one creature that really doesn't want to go down, it's this one. With two healing moves, counter-power heal, resilient rampage, high attack, a swap move, good hp, and a group attack, it can stick around for a long time.
Scorpios Rex gen 3 is a creature that is able to repress so many creatures thanks to its signature move: toxic quills. That, paired with the swap in ambush, makes so many creatures like Trykosaurus or Diorajasaur almost irrelevant.
Spinoconstrictor is now a major threat in the meta thanks to its defensive build and all its bleeding abilities. Not only that, but it has great offense with precise rampage. And with its on-escape, it can really deter any swapper.
Testacornibus. Ludia has been hitting Testacornibus pretty hard over the last few patches with many nerfs, and yet it's still up here. It's a great tank with good offense and great defense. It can heal with dig-in, hit hard with devastation and superior vulnerability, or use the superior vulnerability to set up other creatures for a potential sweeper. The reason why it dropped was the counter-power heal nerf had some noticeable effects on Testacornibus.
FAQ
The best dinosaur in Jurassic world alive is a list and not a single dino. As all dinos have different counters according to classes. Tyrant Tier dinosaurs are the best in the game right now.
No, it's just an opinion-based list and some dinosaurs can suit your playstyle and perform better for you.